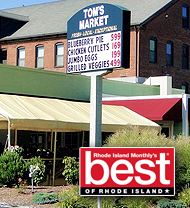 Coventry Location 821 Tiogue Ave, Coventry, RI 02816
401-826-0050 or 401-826-0051
Mon-Sat, 8am-7pm • Sun 8am-6pm
Warren Location 137 Child St, Warren, RI 02885
401-289-2852
Mon-Sat, 8am-8pm • Sun 8am-7pm
Tiverton Location 492 Main Rd, Tiverton, RI 02878
401-816-0862
Mon-Sat, 8am-8pm • Sun 8am-7pm

Tom's Market Super Bowl Menu
PATRIOTS SUPERBOWL PARTY MENU
Let Tom's Market Be Your Secret Ingredient!
Please place all orders with Deli by Friday, February 2nd, 2018
First Quarter
Italian Antipasto Platter $59.95 Serves 15-20
Classic Deli Platter $49.95 Serves 15-20 for sandwich making
Italian Deli Platter $39.95 Serves 12-15 for Italian grinder making
Market Made Finger Sandwiches $25.00dz.
Medium Gulf Shrimp Platter $35.95 Serves 15-20
Vegetable Crudité Platter $24.95 Serves 15-20
Market-Made Gourmet Potato Chips with 3 Dips $24.95
(Dipping Sauces: Gorgonzola, Sweet Chili, Boom Boom, Ranch, and Horseradish)
Delicious Artichoke Dip $5.99lb.
Second Quarter
$8.99dz. MIX and MATCH
Spicy Jalapeno Poppers, Mozzarella Sticks, Crab Rangoons, Coconut Shrimp, Pigs n' a Blanket
Seafood Stuffed Mushrooms, Phili Cheesesteak Quesadillas,
Corona Beer Battered Shrimp, Fried Ravioli,
Tom's Boneless or Bone-in Chicken Wings $6.99 lb.
BBQ, Buffalo, Sweet Chili, Honey Mustard, Orange Marmalade Honey Sriracha, Bourbon, Buff-a-Que, Garlic Parmesan, Thai Peanut, Sweet Chili, Cucumber Wasabi, Carolina Style
and more!!!
Half Time Eats
Just enough time to fire up the grills!
Tom's Famous Gourmet Burgers $6.99lb (Bacon-Cheddar, Mushroom Swiss, and Firecracker)
Boneless Pork Butt for Pulled Pork $1.99lb.
Chili Grind Ground Beef $3.99lb.
Tom's Market-Made Sausages $3.99lb.
Custom Cut Steaks, Roasts, Fresh Burgers, and RI Saugy's
See Next week's ad starting on January 31st for STEAK-A-PALOOZA
Third Quarter
Everything's perfect for the crock pot!
Award-Winning Chili $7.99qt.
Tom's Own Sausage and Peppers $5.99lb (Red Sauce or Olive Oil)
Tom's Chorizo and Peppers $6.99lb.
Tom's Market-Made Mini Meatballs $5.99lb (Tomato, Bourbon, Sweet Chili, Swedish)
Sweet and Sour Kielbasa $6.99lb
Tom's Famous BBQ Pulled Pork $8.99
Tom's Own Chicken Parmesan or Sausage Spiced Meatballs $6.99
Tom's Famous Homemade Mac n Cheese $19.95 ½pan Serves 10-15
Fourth Quarter and Special Teams
Must be ordered by January 31st
Make-Your-Own nacho bar!
Perfect for the pre-gamers, the grazing guests, and the bathroom breaks. Let your guests travel down the side-lines adding their own toppings and fixings, to create
the ultimate nacho touch-down.
Tri-Colored Tortilla Chips
BBQ Pulled Pork and Seasoned Beef (complete with warming chafer and sterno)
Shredded Cheese, Diced Tomatoes, Shredded Lettuce, Black Beans, Diced Red Onion,
Black Olives, Sliced Jalapenos, Sour Cream, Salsa, and Guacamole
$150.00
20 Guests