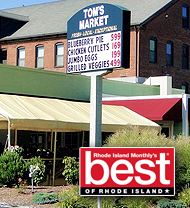 Coventry Location 821 Tiogue Ave, Coventry, RI 02816
401-826-0050 or 401-826-0051
Mon-Sat, 8am-7pm • Sun 8am-6pm
Warren Location 137 Child St, Warren, RI 02885
401-289-2852
Mon-Sat, 8am-8pm • Sun 8am-7pm
Tiverton Location 492 Main Rd, Tiverton, RI 02878
401-816-0862
Mon-Sat, 8am-8pm • Sun 8am-7pm

Tom's Market Super Bowl Menu
Holiday Menu
Let Tom's Market Be Your Secret Ingredient!!
Please place your orders by December 19th. All items come with complete heating instructions
Soups
Chicken Escarole, Pasta and Bean Soup, Roasted Tomato Basil Bisque $7.99 qt, Lobster Bisque $6.99 pt
Sauces
Mushroom Demi-glace, Horseradish Cream Sauce $6.99 pt, Au Jus $5.99 qt
Appetizers
Coconut Shrimp or Potstickers $9.95 dz, Scallops and Bacon $16.99 dz, Clams Casino $18.95 dz
Tom's Flatbread Pizza $5.99 ea, Oysters Rockefeller $2.99 ea, Tom's Famous Stuffies 2/$5.00
Market Made Snail or Baccala Salad $16.95 lb, Tom's Codfish or Crab Cakes 2/$3.00
Stuffed Crabs 2/$5.00, Portuguese Stuffies $2.99 ea
Platters
Imported and Domestic Cheese Platter $39.95 Serves 12-15, Assorted Finger Sandwiches $25.00 dz
Antipasto Platter $59.95 Serves 15-20, 2 lb Medium Shrimp Platter $35.95 Serves 12-15
Vegetable Crudités with Dip $29.95 Serves 15-20, Savory Cheesecakes with Grilled Ciabatta $25.00 ea
Sides
Fontina Infused Risotto Cakes $2.99 ea, Parmesan Steak Fries or Sweet Potato Wedges $5.99 lb
Cheesy Baked Stuffed Potatoes $2.99 ea, Roasted Cauliflower, Barley and Chic Peas $5.99 lb
Three Cheese Stuffed Shells with Tomato Sauce $16.99 dz, Grilled Vegetable Ratatouille $6.99 lb, Roasted Brussels Sprouts with Bacon $6.99 lb, Green Beans Almondine $7.99 lb
Sautéed Rabe Agilo e' Olio $7.99 lb, Marmalade Glazed Carrots with Fresh Herbs $5.99 lb
Death By Butter Garlic Smashed Potatoes $5.99 lb
Seafood
Lobster and Scallop Stuffed Shrimp 2/$5.00, Stuffed Sole or Scrod $7.99 lb
Bourbon Glazed Salmon with Peaches $16.95 lb. Sole Francaise $9.95 lb, Parmesan Crusted Tilapia $4.99 ea
Seafood Stuffed Portabellas $6.99 lb, Jumbo Citrus Grilled Shrimp $24.95 lb
Rolls and Breads
Dinner Rolls $3.99 dz, French Baguette $1.99, Assorted Ciabattas $3.99, Tuscan Boules $3.99.
Call for a great list of all of our pies and holiday desserts!!
Roasts
Prime Rib Roasts, Budaball Hams, Crown Roasts of Pork, Beef Tenderloin, and Veal Roasts.
2016 Featured Holiday Roast
Sea Salt and Herb Crusted Boneless Prime Rib with Truffle and Black Pepper Infused Horseradish Sauce $14.99 lb
Please place your order early. Some items may not be available if not pre-ordered