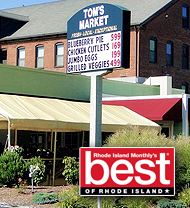 Coventry Location 821 Tiogue Ave, Coventry, RI 02816
401-826-0050 or 401-826-0051
Mon-Sat, 8am-7pm • Sun 8am-6pm
Warren Location 137 Child St, Warren, RI 02885
401-289-2852
Mon-Sat, 8am-8pm • Sun 8am-7pm
Tiverton Location 492 Main Rd, Tiverton, RI 02878
401-816-0862
Mon-Sat, 8am-8pm • Sun 8am-7pm

Tom's Market Super Bowl Menu
Thanksgiving Menu
Let Tom's Market Be Your Secret Ingredient!!
Please place your orders by November 21st. All items come with complete heating instructions
"We'll do everything for you but cook the bird!!"
Classic Turkey Gravy $5.99 qt
Tom's Famous Sausage and Apple Stuffing $6.99 lb
Traditional Bread and Herb Stuffing $4.99 lb
Traditional French Meat Stuffing $6.99 lb
Roasted Butternut Squash Stuffing $4.99 lb
Mashed Butternut with Apples, Maple Syrup, Brown Sugar, and Apple Jack Brandy $5.99 lb
Tom's Famous Smashed Turnip, Carrots, Butter, and Chives $3.99 lb
Mashed Sweet Potatoes $5.99 lb
Twice Baked Stuffed Potatoes $2/$5.00
Grandma's Green Bean Casserole $6.99 ea Serves 2-3
Smashed Red Bliss Potatoes with Garlic $5.99 lb
Oven Roasted Root Vegetables $6.99 lb
Smashed Cauliflower Parmesan $7.99 lb
Marmalade Glazed Baby Carrots $5.99 lb
Pumpkin Risotto Cakes $2.99 ea
Traditional Antipasto Platter $59.95 (serves 15-20)
Fresh Vegetable Crudités with Dip $29.95 (serves 15-20)
Imported and Domestic Cheese Platter with Assorted Crackers $39.95 (serves 12-15)
Tom's Famous Stuffed Mushroom $9.95 dz
Chicken Escarole Soup, Roasted Tomato Bisque $7.99 qt
Three Cheese Stuffed Shells or Manicotti $16.99 dz
Fresh Baked Dinner Rolls $2.99 dz
Fresh Baked Cranberry Pecan Ciabatta $4.99 ea
Call for our complete pie selection!!
Place your order early!! Some items may not be available for same day pick-up