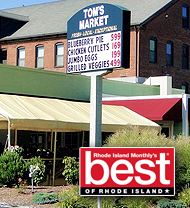 Coventry Location 821 Tiogue Ave, Coventry, RI 02816
401-826-0050 or 401-826-0051
Mon-Sat, 8am-7pm • Sun 8am-6pm
Warren Location 137 Child St, Warren, RI 02885
401-289-2852
Mon-Sat, 8am-8pm • Sun 8am-7pm
Tiverton Location 492 Main Rd, Tiverton, RI 02878
401-816-0862
Mon-Sat, 8am-8pm • Sun 8am-7pm

Weekly Specials
Weekly Specials
December 12-18, 2018 Don't forget that Tom's Market has THE BEST roasts, sides, and appetizers for your holiday. We're famous for our Boned and Tied Prime Rib!! Our staff would be delighted to work with you on your holiday plans.
Don't Forget to "Like" us on Facebook!!
Comments, Suggestions, Requests??
Proud to be Part of Your Community!!!
If the ad is not posted by 9:00 AM please call 1-401-826-0050. We do our very best to try to have it first thing Wednesday morning
Click here For This Weeks Specials